Update on Trump Dubai
The latest news on this exciting property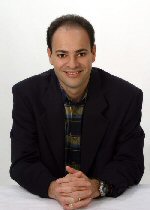 Joel Greene here from Condo Hotels Dubai. I've just finished speaking with my contact at the Palm Trump International Hotel and Tower, and I have an update for you including some rather surprising news about this property.
If there's anything that I've learned about condo hotels, it is this: until they are completed, nothing is set in stone -- not the franchise, the floor plans, the management, and sometimes, not even the developer.
Developing a hotel property, just like the operation of one, requires the builder to stay two steps ahead of the competition, but at the same time, be in touch with the changing demands of the consumer.
As hard as it is to believe, these massive projects are usually in a state of flux throughout the entire building process.
Often, the finished product best serves the developer and his customers, even if the final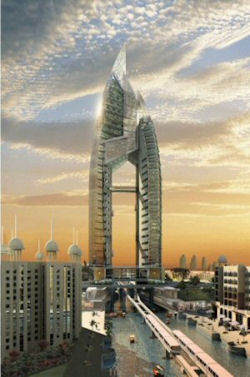 product looks nothing like what was originally conceived or offered upon initial pre-sales.
We at Condo Hotels Dubai have been following the Palm Trump International Hotel & Tower Dubai since it was first announced in 2005.
Its sales date has been circled on our calendars the same way the Boston Red Sox know when the New York Yankees are coming to town.
In order to keep you up to date on this magnificent project, over the past two years, I've developed and maintained a relationship with five different contacts with two different companies (Trump Organization and Nakheel in Dubai) on two different continents. Yet another example of the typical changes a development goes through.
During that time, I've seen the total number of units change and the entire design (once tulip-shaped, see picture below) changed as well. And I've seen the date for preconstruction sales to the public moved many times. The latest information is that sales will begin in April 2008.
Well today I received the biggest surprise update yet. Depending on your interpretation of the information, this could be considered good news or bad news. But one thing I can tell you with certainty, is that nothing is set in stone.
The big news is that the Trump Dubai is likely to be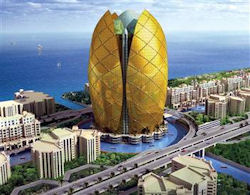 built as a hotel residence instead of as a condo hotel. In other words, it will be what's called a mixed-use property in which some of the units will be traditional condominium residences while others will be part of a traditional hotel.
Hotel residences are one of the most successful new trends in real estate, and this evolution of mixed-use buildings can be found at some of Trump's other properties like those in Chicago, Panama and Toronto.
This formula incorporates luxury hotels and residential condominiums into a single development program, sometimes with a retail component as well.
A hotel residence is designed to be used as a permanent residence. This means you can live there year round, unlike most Dubai condo hotels where your maximum usage is limited to 30 days a year, and you are obligated to place your unit into the hotel's rental program for the other 11 months.
Because there is an onsite hotel, owners of the residences also have access to all the services and amenities of a five-star hotel, namely: concierge, room service, valet, housekeeping, gourmet restaurants, pools, fitness center and spa facilities.
In other words, owners have the conveniences and amenities of a hotel, yet live in the comfort and privacy of their own luxury residence. And while they can't put their homes into the hotel's rental program, this does not necessarily preclude them from renting out the unit on their own.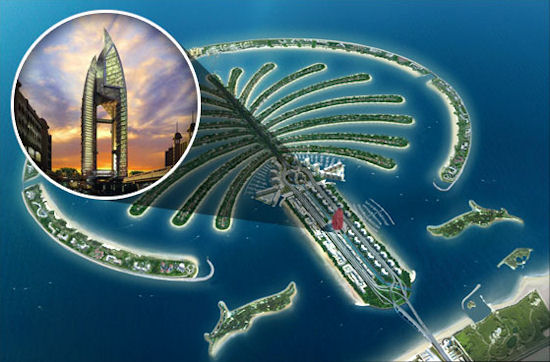 The Palm Trump International Hotel & Tower Dubai will be a hotel residence on Palm Jumeirah island.
So what does this mean to you as a potential investor in Trump Dubai? Well, if you had your heart set on buying a condo hotel unit, one that is placed in a hotel management program and generates monthly revenue to help offset your costs of ownership, this property may not be for you.
On the other hand, if your priority was to own a luxurious home in Dubai, especially one that carries the prestigious Trump name, this change in plans could work to your advantage. There may be less competition for the units as hotel residences.
If you asked to be on our Trump Dubai VIP list in the past few months you may remember that I warned against waiting for this property. I suggested to you that the demand for Trump Dubai will be overwhelming, and therefore, wanting a unit does not, in fact, mean that you will get a chance to purchase a unit.
I cited the one day sellout of the Trump Waikiki, $700,000,000 in sales in one day, a U.S. record, followed six weeks later by the Trump Baja selling 80% of its inventory in one day, $122,000,000, a Mexico record, as examples.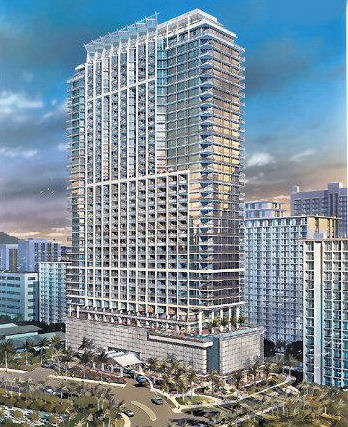 Trump Waikiki sold out in one day, setting a U.S. record and disappointing many would-be buyers.
Furthermore, I've seen similar buying frenzies for Trump Panama and for oceanfront sites that were adjacent to the future Trump Dominican Republic.
To the best of my knowledge, there is no real estate in the world that is hotter than Dubai, and no name hotter in the hotel business than Trump's. Put the two together, and the demand for the Trump Dubai may reach incredible proportions! However, if this is sold as a hotel residence, then that may change things a bit.
Right now, my Trump contact is very tight-lipped about everything. He couldn't even reveal to me how many units there will be or where prices may start. He said he hopes to have more information for me by early April.
As a hotel residence, units will likely be larger than your typical condo hotel studios, and consequently, prices will be higher. Therefore, it may take longer to sell the inventory now, increasing the chance that those who are serious about getting a unit, and can afford one, will have the opportunity.
And while the Trump Dubai as a hotel residence won't generate an on-going revenue stream for its owners like a condo hotel could, this property still has tremendous appeal as an investment.
The Trump brand name, the availability of five-star amenities, the outstanding location and finally, the limited supply of hotel residences on the market should ensure this property's value and appreciation potential. The Trump Dubai will stand out as a home fit for a king or as the crowning achievement in your investment portfolio.
As soon as I learn any more details about this exciting, yet ever-changing, property, I will make sure to inform you. Thank you for your continued interest in the Trump Dubai.
Warmest regards,
Joel Greene
Licensed Real Estate Broker
Condo Hotel Center
13499 Biscayne Blvd., Suite #210
N. Miami, FL 33181
Ph: (954) 450-1929
Joel@CondoHotelCenter.com
www.CondoHotelCenter.com
ww.CondoHotelsDubai.com
www.WorldClassCondoHotels.com
www.CondoHotelsBahamas.com
Want to know more about me? Click below:
http://www.zoominfo.com/Search/PersonDetail.aspx?PersonID=33519156
* Copyright infringement is taken seriously by Condo Hotel Center and will be prosecuted.

© Copyright 2008 Condo Hotel Center