February 29, 2008
SeaWorld to Make Big Splash in Dubai
Announces Plans to Open FOUR Theme Parks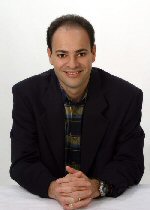 Hello, Joel Greene here from Condo Hotels Dubai. I'm writing you today because I know you like to be kept abreast of developments in Dubai.
Today's development isn't a condo hotel. But it will most certainly have an impact on Dubai's condo hotels, as well as other real estate.
This morning SeaWorld Orlando owner Busch Entertainment Corp. announced that it will build an immense, new resort in Dubai, UAE. It will be called Worlds of Discovery Dubai.
Busch and UAE-based developer Nakheel will together build a SeaWorld theme park, a Busch Gardens theme park, a Discovery Cove day resort and an Aquatica water park all on a man-made island in Dubai. The resort will also include hotels, spas, shops and restaurants.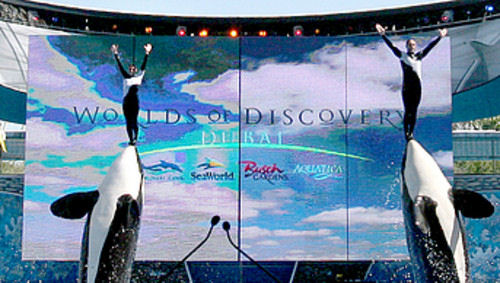 SeaWorld will build four theme parks in Dubai as well as hotels, spas, shops and restaurants.
Busch Entertainment President Jim Atchison made the announcement this morning during a ceremony at Shamu's Stadium at SeaWorld. "Dubai offers a true global stage for our brands," Atchison said, adding that Dubai "looks a lot like Orlando" before it blossomed into perhaps the best-known family-vacation destination in the world.
"When we think about Dubai, it's really a region of the world that is just amazing. It's cosmopolitan. It's changing . . . how the world, and travelers, view vacation destinations."

This Deal Represents Billions!
Busch Entertainment will license its brands, plan the parks and provide Busch-style management. Nakheel will supply all the capital to build the parks and then own them. The two companies have a 15-year contract, with options to renew.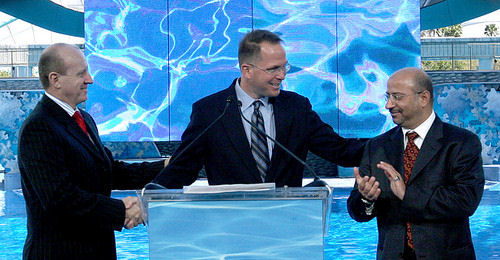 Jim Atchison, president and CEO of Busch Entertainment (center), with Chris O'Donell, CEO of Nakheel (left), and Marwan Al Qamzi, managing director of The Palm Jebel Ali, congratulate each other at this morning's announcement.
Neither Busch nor Nakheel officials would discuss the cost for Worlds of Discovery Dubai. An independent consulting firm, International Theme Park Services of Cincinnati, estimated the price tag at $2 billion to $3 billion.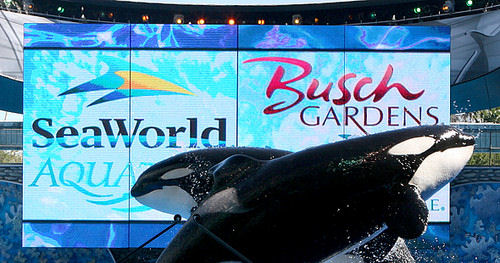 Estimates are that SeaWorld will invest $2 to $3 billion to build these four Dubai theme parks.
Come on in Shamu, the Water's Fine
The four parks will share a built-from-scratch, 440-acre island shaped to look from the air like a killer whale. It will be the "crown" island in a man-made archipelago called Palm Jebel Ali, which Nakheel is reclaiming from the waters of the Persian Gulf off Dubai.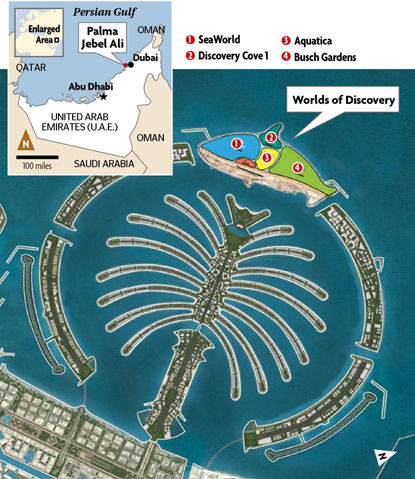 Worlds of Discovery will be the "crown" of the Palm Jebel Ali group of islands.
The rest of the islands, when fully developed in seven to 10 years, are expected to contain as many as 56 hotels as well as shopping, commerce and housing for 280,000 people.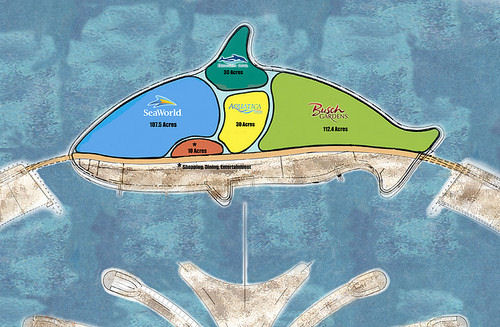 The four theme parks will reside on a man-made island shaped like a whale.
Nakheel has already developed a similar palm-shaped island cluster a few miles down the coast, called Palm Jumeirah, and boasts Dubai developments totaling $80 billion.
Big Plans for Dubai
Busch follows Universal Parks & Resorts, which announced last spring that it will build a resort called Universal Studios Dubailand. The resort, which will be comparable in size to Universal Studios Orlando, is expected to open by 2010. Universal hopes it will ultimately draw five million visitors a year.


Among the many developments being constructed in Dubai is Atlantis the Palm, a 2,000 room hotel designed to look much like its sister property, the highly successful Atlantis Resort in The Bahamas.
Universal's UAE park is already under construction, about 20 miles from the Busch site. Numerous other leisure projects already are planned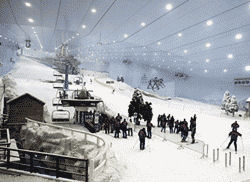 or under way in Dubai. They include:
Warner Bros. theme park
Ski Dome, world's largest indoor ski slope
Sega-themed project, world's largest indoor theme park
Ferrari/Formula 1-themed park
Marvel Comic Books theme park
Cirque du Soleil arena
Atlantis Resort
DreamWorks-based entertainment attraction
What All This Means to Dubai Condo Hotel Owners
As I'm sure you realize, four new theme parks in addition to all the other major attractions planned for Dubai, will add to this city's incredible drawing power. Let's face it, all those visitors will have to stay somewhere, and five-star condo hotels located in the heart of all the excitement are destined to benefit.
Dubai had five million tourists in 2005, and officials have projected the city to have 15 million visitors per year by 2010. However, since money follows money and new projects are being announced in in Dubai all the time, who's to say that 15 million isn't a bit conservative, as those projections were made before anyone knew of all the new projects that would be attracted to Dubai.
If you've already purchased a condo hotel in Dubai, today's SeaWorld announcement should be further evidence that you're investing in a city that is absolutely exploding with growth.
If you haven't already made a purchase, feel free to contact me for additional information on what's currently available, and also keep your eyes open for our announcements of new properties coming on the market.
As always, thank you for your interest in our news on Dubai. Have a great weekend!
Joel Greene
Licensed Real Estate Broker
Condo Hotel Center
13499 Biscayne Blvd., Suite #210
N. Miami, FL 33181
Ph: (954) 450-1929
Joel@CondoHotelCenter.com
www.CondoHotelCenter.com
ww.CondoHotelsDubai.com
www.WorldClassCondoHotels.com
www.CondoHotelsBahamas.com
Want to know more about me? Click below:
http://www.zoominfo.com/Search/PersonDetail.aspx?PersonID=33519156
* Copyright infringement is taken seriously by Condo Hotel Center and will be prosecuted.

© Copyright 2008 Condo Hotel Center.